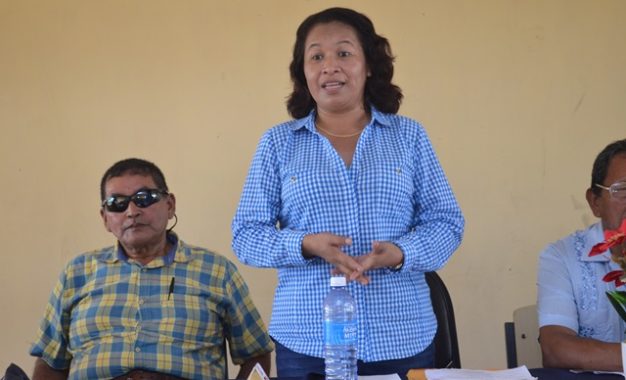 Residents of Sand Creek and surrounding communities in Region Nine were engaged by Minister within the Ministry of Communities, Dawn Hastings-Williams and team on phase two of the sustainable housing programme on Thursday.
The programme is being funded by the Inter-American Development Bank (IDB) at the cost of US$3.1M, in collaboration with the Government of Guyana.
Minister Hastings-Williams noted that residents will play an integral role in determining the type of houses that will be decided on. The Minister said that government is keen on ensuring that residents in communities countrywide benefit from housing projects, and not only persons living on the coastland.
"…we also have persons in the hinterland who are in need of housing. It may not be the same type of housing on the coast, it may not be three, four, or five-storey buildings…but we also have our housing needs in the hinterland," the Minister stated.
Minister Hastings-Williams pointed out that one of the aims of the project is to create employment for residents within the communities in which it will be launched. According to the Minister, residents will be tasked with providing the materials necessary for building the houses, and for which they will be paid.
Additionally, the Minister said that skilled persons from the communities will be hired to construct the houses. "Monies that are being spent on this project will be circulated in the community instead of bringing somebody from somewhere else to build these houses for you," Minister Hastings-Williams explained.
Another objective of the housing programme is to provide potable water to the residents. The Minister told residents that very soon, Guyana
Water Incorporated (GWI) workers will be visiting their communities. The Minister stated that, "Wherever there is improvement that is needed to be done, we will look at that to ensure that you have safe drinking water."
The housing programme also seeks to improve the sanitary conditions of the residents. Minister Hastings-Williams said that on visits to some hinterland communities; it has been observed that sanitary facilities are either absent or in terrible condition. "Where there is a need for that, the project will either build a latrine, or according to what is your priority needs," the Minister stated.
In the community of Sebai, in the Matarkai Sub-District of Region One, 15 families have been selected to benefit from the housing programme. Through this project, government aims to build on the success of an earlier project that was initiated in 2009 and wrapped up in 2015, by providing better access to housing, potable water, sanitation and the promotion of women's empowerment.
Minister Hastings-Williams said that the sustainable housing programme is geared at providing a good life for all citizens.
By: Isaiah Braithwaite, GINA