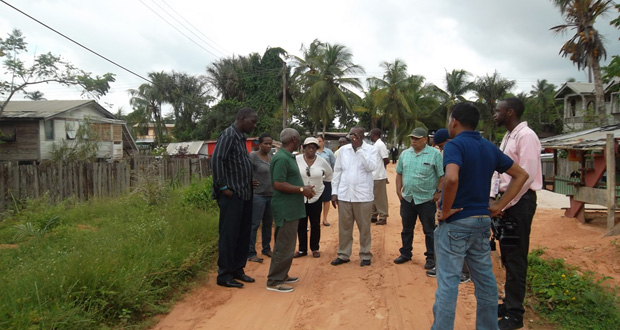 MINISTER Keith Scott has declared that the regularisation of squatting areas and the handing over of communities to the municipality are priorities for the housing areas in Linden.During a recent visit, Minister within the Ministry of Communities, Keith Scott and a team visited Linden, Region 10 (Upper Demerara- Upper Berbice) for a first-hand look at the housing areas and regularised squatting areas.
The Minister, who is tasked with the responsibility of the Housing Department, explained that the reason behind his visit was to address many issues, including infrastructure upgrade and water supply.
Scott noted that the Ministry of Communities will be streamlining the housing sector in Linden, to improve the standard of living of residents. He assured the regional authorities, including Regional Chairman, Rennis Morian and Chairman of the Linden Interim Management Committee, Orin Gordon that the Ministry will be working assiduously to address the many issues in the housing and water sectors in Region 10.
Wisroc, Amelia's Ward, and Block 22 and Blue Berry Hill were some of the areas visited by Minister Scott.
Central Housing and Planning Authority (CH&PA) is currently working with the Land Registry to process land titles for Block 22 Wisroc. The Authority noted that it is expected that, by September, over 100 titles will be processed and ready for distribution. The Authority also anticipates this would motivate other residents to pay for their lots to begin the titling process.
Minister Scott also visited Guyana Water Incorporated (GWI) water treatment plant at Wisroc, which was recently constructed. Another plant, he stated, has been constructed at Amelia's Ward and these two plants have the capacity to supply water to communities in Linden.
The Minister expressed CH&PA's readiness to hand over communities, including Ameila's Ward Phase 1, to the Municipality. "The revenue earned could assist the Municipality in providing vital services to the communities", he expressed.