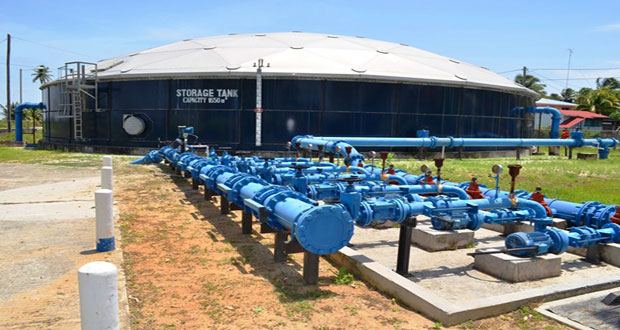 Water is essential to life, and its economic value is immeasurable; apart from living things drinking it to survive, water is essential for varying things.
With a growing economy, the demand for safe drinking water increases; therefore, the PPP/C Administration has sought to embark on a national water programme which has resulted in potable water being made available to over 700 villages throughout Guyana, with running taps in every home/yard.
The recently commissioned Manchester well, Region Six
Through the Guyana Water Incorporated (GWI), Government expended $20 billion on the improvement of nationwide water supply over a 15-year period, with a per capita investment of nearly $30,000 per household.
These investments resulted in the construction of seven new water treatment plants to increase coverage, drilling of 25 new water wells, and upgrading of distribution and transmission networks and rehabilitation of sewer systems.
Reflective of this significant stride, the percentage of people with access to potable water has increased from 26% to 50%, and new service was provided for in excess of 100,000 people.
Linden
The two new water treatment facilities in Linden at Amelia's Ward and Wisroc, executed through funds from theInter-American Development Bank (IDB) have been completed and are now in the trouble shooting phase.
During a recent interview with the Government Information Agency (GINA), GWI Director of Infrastructure Planning and Implementation, Ramchand Jailall, noted that a number of other communities are being linked to the water treatment plants.
The newly constructed Linden Water treatment facility
"Amelia's Ward water is treated …and we are in the trouble shooting phase where we are trying to incorporate some of the other communities…In Wisroc also, the water treatment plant has been successfully completed including a new starch reservoir and an elevated tank, and these facilities are being operated here, again in the testing phase, treated water is supplied to Wisroc, and the surrounding communities," Jailall explained.
Over 30,000 people residing in Linden, will benefit from treated water that meets World Health Organisation's (WHO) standard, bringing water coverage in Linden to 100%.
Coastal Supply
Over the past years, a number of water treatment facilities were constructed to meet the growing housing demand. Communities such as Lima-Region Two, Vergenoegen- Region Three, Cummings Lodge, Sophia, Central Ruimveldt and Eccles in Region Four, Cotton Tree-Region Five, and Manchester, Region Six have been beneficiaries.
Lima water plant in Essequibo, Region Two
As a result of these investments, water coverage on the coast has moved from less than 70% to 95% and meter coverage, from 25% to 50%.
Ongoing projects
Currently wells are being drilled in areas such as Hope, which is expected to be commissioned within a month. Providence's well will be linked to parts of Eccles and Uitvlugt. There is also a new well being drilled at Hill Foot on the Soesdyke /Linden highway.
Further, there are newly installed distribution mains and service connections in Agony's Avenue that will benefit some 1000 households, as well as in Esau Jacob, Mahaicony, Little Baiboo, Parika, Eccles and Diamond.
A resident accessing water in her home
GWI's Programme Manager, Richard Hoyte explained that the two systems at Providence and Eccles are in the process of being linked and will benefit over 2000 residents. He also noted that the transmission main from Belle Vue to Stanleytown, Region Three is in the process of being completed and will benefit the 3000 customers in Parfaite Harmonie.
Hinterland
The GWI's undertakings in the hinterland regions have seen hinterland water coverage moving from 25% to 84%, with the aim being to cover 90% of the hinterland communities by 2016.
Implementation of the strategy has seen the installation of photovoltaic pumping systems, trestles and wells in Haimaracabra Waikerebi and Santa Rosa, Region One which are benefiting about 1000 residents. In Region Seven work was dome in Kaikan, and Arau to upgrade the water systems while in Region Eight work was undertaken in Taruka and Kanapang, and two new wells were completed in Lethem, Region Nine.
A solar water system in the Hinterland
In the case of Lethem, Jailall pointed out that through the Basic Needs Trust Fund (BNTF), plans are on steam to increase the hours of water supply. Two new wells were built in Aishalton and Kato, an St. Ignatius also has a new well.
Future plans
During 2015, the new water sanitation improvement programme will continue and will benefit more than 50,000 people. This programme targets the increase of treated water coverage from 50% at present to 60% after completion and the completion of three new water treatment plants, at Uitvlugt, Diamond and Sheet Anchor. Construction is scheduled to commence in the latter half of 2015.
Plans are on stream to construct new distribution mains at number 74 and 54 Villages. The designs for these projects are already completed. The distribution systems at Queenstown and Number 56 Village will also be linked to benefit 2000 people. In Georgetown a number of water treatments plants will be linked to further increase treated water coverage.
The $600M water treatment plant in Central Ruimveldt
There is also provision for the construction of 1000 septic tanks, targeting the vulnerable groups. An evaluation process will be done to determine who will be qualify to benefit from this project
Meanwhile, in the Hinterland,a number of projects will be executed in Regions 1, 7, 8 and 9.
 In Region One, Mabaruma, Matthews Ridge and Port Kaituma, will have their water supply improved. At Port Kaituma there is a challenge where sometimes the water being supplied from the Kaituma River is contaminated.
Plans are on stream to complete a second dispensation system so that more drinking water can be available in other remote areas.
In Mahdia, Region Eight, through a collaborative effort with the Guyana Geology and Mines Commission (GGMC), water supply will be improved.