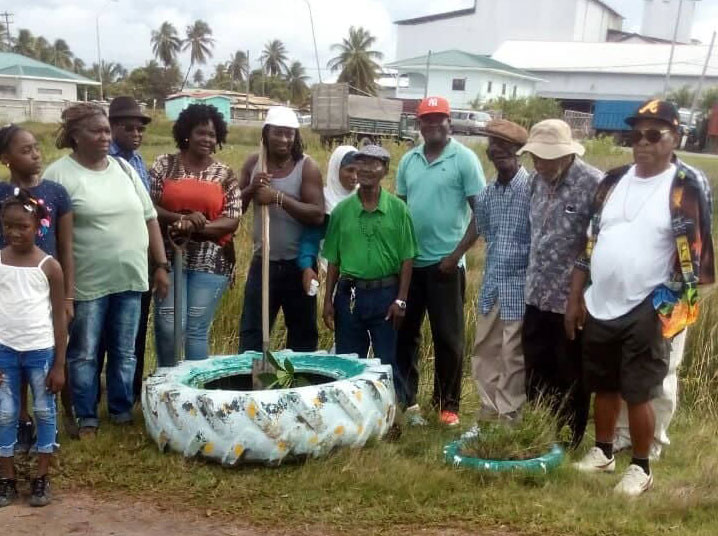 The twinning of communities is expected to become a popular phenomenon in Guyana, and two communities have already taken advantage of this developmental approach to community spirit and bonding.
Chairman of the Golden Grove/Lovely-Lass/Onverwagt Community Development Council (CDC), Phyllis Peters, explained that because many Guyanese are not aware of the existence of the community, she began emphasizing the need for increased recognition.
"A lot of people refer to the community as Lovely Lass but really it is Golden Grove and Lovely Lass is just the village nearby and so we have not been recognised as a community over the years," the Chairman said.
Peters who also serves as Councillor of the Union/Nargastigeit Neighbourhood Democratic Council (NDC) noted that it was this need for recognition and the idea that communities can exchange best practices, customs and traditions that sparked the twinning initiative.
The idea for the twinning was birthed by Justice Donald Trotman after a visit to Golden Grove, West Coast Berbice in early March. He too expressed surprise that there was another village with the same name as the one on the East Coast Demerara.
As an Executive Member of the Golden Grove/Nabaclis/Haslington Concerned Citizens Group, Trotman spoke with the council and plans began in earnest for a planned visit between the two sides.
"The idea of twinning communities is expected to draw communities closer, to improve friendship and relations between communities. There was plenty to eat and drink with generous servings of traditional cookup, cornkea, and mauby.
"So we had our get-to-know-you sessions. We prepared for them; we cooked a pot of shine rice callaloo cook-up, we fried fish, we made cassava pone, and a bucket of sorrel," Peters stated.
She explained that since her village has an abundance of tamarind trees, the East Coast Demerara community expressed an interest in having those trees planted in their village.
"So we had a tree planting ceremony and we welcomed them with open arms," she detailed.
According to Peters, the communities were once very depressed areas.
"Nothing was being done for us. It was like we were neglected and so people started to sell out their houses and other assets. It was a swampy area and we began to develop the community. We would catch fish and things began to happen."
About the initiative Trotman said history was created when the two communities forged a bond of friendship that could last for generations to come.
Residents of the Golden Grove, East Coast Demerara journeyed to the West Coast Berbice community to join with the residents of that community to celebrate the historic occasion.
The West Berbice group was hosted at the famous Watergate location owned by Dennis Webster and his wife.
Trotman disclosed that most of the people of both communities are descendants of emancipated slaves who purchased sugar plantations from their former owners after slavery was abolished.
The East Coast Demerara community was established in 1848 and the West Coast Berbice Community was established in 1840.
According to Court records, the land transport of Number 25 or Plantation Golden Grove was passed in the County of Berbice on October 12, 1840.
One was transport was issued to 14 principal men. The names are as follows: Pompey Hollingsworth, Harry Benn Craig, Richard Rollin, William Daniel, Hardfair Morris, Peter Morris, King George, Dublin Liverpool, Lawson McCleod, Sam Burnet, Joseph Lytch, Sharp Jane Morris, and George Wulff. These are the 13 men and 1 woman whose names appeared on the transport.
However, it must be noted that these men were not the only persons who bought the village.
A total of 48 men and women contributed to the purchase of Golden Grove. They paid $5,000 for 500 acres.
The other purchasers were: Raynard Sharp, Butch Morris, Thomas Daniel, Comus Morris, Job Cummins, George Thomas, Ned Thomas, Ned Baird, Castello Winter, Fox Baird, Mars Baird, Jake Morris, Charles Morris, Mogeay Oscar Forseythe, Ward Morris, Primus Dick, Glasgow George, George Williams, William Graham, Dundee Mentore, Nelson, Dover, Ben Craig, Vulcan Morris, Sandy Chathan, George McLennen, Walter Bentick, Quaco Morris, Nilly Hodella, Francis Jobin, Jeba, Molly Houston and Charles Morris.
According to historical records, it was bought for $1,716 and later surveyed in 1846.
Pastor Seonid Richmond, who is the CDC Secretary and NDC Vice Chairman blessed the inaugural bonding occasion with prayers.
Other representative members of the host community included Veronica Ince, Annie Archer, Marlon Peters, Roxanne Raghubeer, Odetta Gordon, Olive Williams, Edith Fraser and several youth groups.
The visiting team included Ingrid Holder, Beverly Grant-Stephens, Michelle Garnett, Simone Anderson, Victor Perreira and Donald Trotman, Leslie Blair, Shondel Williams, Ernest Williams, Carl Mc Leod, Shanica Thomas, Joel Maison, and several children and youths.           .
The highlight of the occasion was the ceremonial earthing of young fruit and flower plants in all three villages of the Berbice community.
"This symbolises the hope of growing friendship and bonding of the two communities in generations to come. These plants were brought as gifts by the Demerara residents, and it is expected that similar symbolic gifts and ceremonial planting will be done when the Berbice residents come to Demerara in a return visit in July of this year," Trotman mentioned.