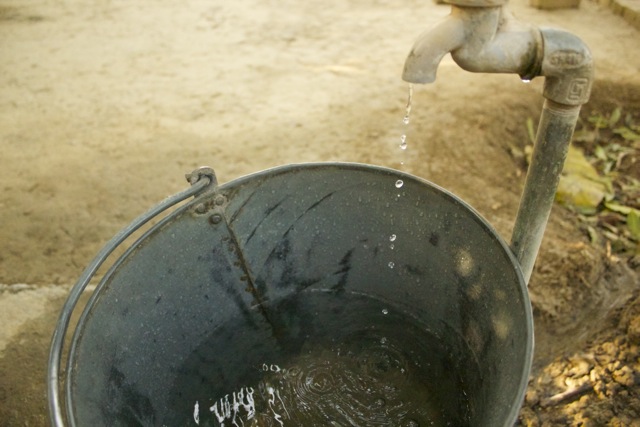 Steadfast and committed in providing potable water to citizens, the Government expended approximately $2 Billion, in 2016, to improve and expand access to water.
Given the investment, the following outputs are achieved, according to Minister within the Ministry of Communities, Dawn Hasting-Williams, who has responsibility for the water sector.
Increased national water delivery
In 2016, residents in over 43 communities received water for the first time, benefitting over 45,300 people directly. This intervention also
significantly reduced the risk of water borne diseases. Moreover, beneficiaries saved considerable amount of time and money spent on buying and transporting water for their daily domestic use.
Residents of 'D' and 'E' Fields, Sophia are among those who can now boast of having access to water through their taps in their homes for the first time in many years. The project entailed the extension of transmission lines from newly rehabilitated wells in North Ruimveldt and Turkeyen to Sophia. Over 20,000 residents are benefitting for the completion of works.
In 2016, the sum of $585 Million was expended under the Coastal Water programme.  The many outputs that have been achieved include the installation of transmission mains and expansion of distribution network at Kuru Kururu. According to Minister Hastings-Williams, prior to this intervention, on a daily basis the residents were saddled with high costs to procure and transport water for their daily use. Approximately 500 persons benefitted from the improved level of service.
There was also the installation of water supply system at Waikabra, Soesdyke. Minister Hastings-Williams said that prior to the intervention; residents were using water from a nearby creek. Approximately 1000 residents are now benefiting from newly installed pipes, and a new well.
The completion of the distribution network in Friendship squatting area benefitted over 1,250 residents. Prior to this intervention, the residents' only source of water was rain. According to Minister Hastings-Williams, during the dry season, these residents had to seek alternative sources which exposed them to water-borne diseases. The residents can now receive potable water for the first time at a level of service of four meters.
Also under the Coastal Water Programme, there was the drilling of a new well and installation of transmission and distribution lines at Lima Sands Housing Scheme in Region Two. This project benefitted approximately 1,000 persons. Prior to the intervention, residents were using water from the nearby creek.
 Under the Urban Water programme, the 2016 budgeted amount of $226.1 Million was expended to achieve the following: the supply and installation of distribution mains and service connection upgrade in Lamaha Park, along Duncan Street, Campbell Avenue and Durey Lane, benefitting over 8,000 residents.  Residents from these areas now have access to high level of water service for the first time in 10 years. Meanwhile, the replacement of a distribution main at Meadow Bank benefitted approximately 350 households.
Hinterland Water Programme
Under the Hinterland Water Programme, $178.4 Million was expended. Residents from Monkey Mountain, Region 8 now have access to potable water supply for the first time. This intervention has precluded them the arduous task of walking  long distances to access potable water. Over 750 residents benefitted from this intervention.
Also under this programme, 2016 saw improved access to potable water in Campbelltown, Region 8. Residents in this village, as well as
Mahdia can now access potable water, even if there is drought. This project benefitted more than 600 persons. Further, the hospital in Mahdia is now receiving safe water.
Also benefitting from improved access to potable water in 2016 were the residents of Princeville, Region 8. Prior the intervention, residents used to walk long distances to access potable water or rely on rain water harvesting.Over 2,000 persons from this community can now access potable water for the first time.
Another plausible output of the Hinterland Water programme that will be realised shortly is the installation of mains and reconfiguration of systems at Paramakatoi. Not only will this project bring relief to the poor access to water, but will add to the village's economy since the laying of pipes will be done by residents.
Residents in Mahdia, Port Kaituma, Koko, Moruca, Mabaruma, Tassarene and Karrau, were among others that benefitted from improved water supply in 2016, under the Hinterland Water Programme.
The Guyana Water Incorporated (GWI) responded to a diarrhoeal outbreak in Region 7. A team of GWI officials distributed 17 lifesaver filters to the Karrau and River's View villages where reports of the outbreak were more prevalent.
GWI also deployed two engineers to Arakaka, Region 1 to address the lack of water supply there caused by cloud cover over the photovoltaic system in the community.
Under the Linden Water programme a  budgeted amount of $150.2 Million was  expended in 2016 and as a result, residents within the mining town benefitted from improved access to potable water by way of  the decommissioning of old mains, the construction of bypass mains, the rehabilitation of overhead tanks, and the upgrading of transmission and distribution mains.
Linden Water Supply Rehabilitation Project
Under the Linden Water Supply Rehabilitation Project, $99.4 Million was expended instead of the initial allocated amount, $79 Million. The increase in expenditure covers rehabilitation of the two water treatment plants constructed in 2015 under this project at a cost of $1.8 Billion. They had to undergo substantial remedial work in 2016 to the value of $54 Million. The newly constructed treatment plants were experiencing operational challenges. To rectify the flaws, GWI had to install additional filter nozzles; air scour system; and protective covering for chemical pumps among others.
Further, three mini laboratories were established at the water treatment plants in West Watooka, Mackenzie and Amelia's Ward. The aim of this exercise was to monitor more frequently, important parameters of water quality such as pH, turbidity, colour, metals, and chlorine residual and microbial contamination. The laboratories were equipped with the essential monitoring equipment and requisite reagents to monitor the water quality round-the-clock.
Under the Linden Water Supply Rehabilitation Project, as part of an effort to continuously improve the flow of potable water to residents, there was also the rehabilitation of the Mackenzie and West Watooka treatment plants at a combined cost of $49 Million.
During 2016, the GWI hosted a number of training programmes as part of efforts to improve its overall service to customers. Staff underwent training in areas such as Team Building and Telephone Etiquette and on water quality improvement. The latter was facilitated by experts from the World is our Water Foundation out of Holland.
Source: GINA